Master Program: Application and enrolment
Application and enrolment for the Master's degree programme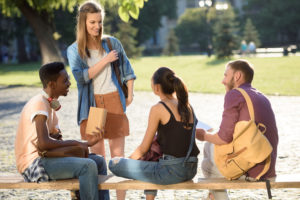 The standard period of study in the ICT master's program is four semesters. It can be started in the winter semester as well as in the summer semester.
Furthermore, it can also be completed as part-time study. You can find more information here.
Please read the following page carefully, because it contains all necessary prerequisites (mandatory knowledge you must have learned during your Bachelor program): Prerequisites
New here? Welcome!
Have you already visited our StudOn-space for international students? You can even access the major sites without being enrolled at FAU!
Application for the program
Applications can only be made via the campo application portal. All documents must be submitted to the Master's Office by 15 July at the latest for the winter semester, and by 15 January for the summer semester.
A list of all the documents required and the relevant application forms can be found here:
https://www.fau.eu/study/prospective-students/application-and-enrolment/applying-for-masters-degree-programmes/
All applicants to the M.Sc. ICT have to pass a online qualification assessment test in order to enroll in this program. This is to ensure that proficiency in the required prerequisites is at a level which will allow them to study successfully. The online exam is taking place twice during the application period. Applicants will get more information in time.
Language requirements
Students need to proof English language skills on the level B2 or equivalent tests or Medium of Instruction Certificate.